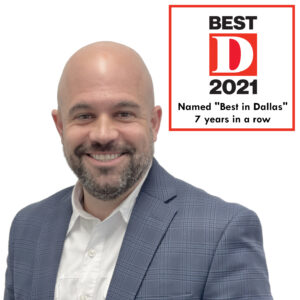 Dr. Roe received the great news that he was selected as Best Dentist in Dallas by a board of his peers. D Magazine has featured him in their 2015, 2016, 2017, 2018, 2019, 2020 & 2021editions. It was a huge honor for him to receive this recognition several years in a row.
Selected Best Dentist in Dallas
D Magazine contacted local dentists in Dallas to have Dr. Roe reviewed for his prosthodontic services. This qualified board of professional in the industry, nominated him as the Best Dentist in Dallas in the area of prosthodontics.
After his peers selected him, he received the congratulatory letter from D Magazine informing him of the decision. What a great day that was for him and the practice.
Featured in D Magazine
The magazine contacted him and set up a time in which they could come out and meet with him so that he could be featured. Also, he was invited to a banquet where he was able to meet other people who had received Best in Dallas awards.
Since he was listed in D Mag, he has gained more exposure to those in the North Dallas, Plano, Garland, and surrounding areas.
Jason Roe is a Dental Specialist
Dr. Roe is a board certified prosthodontist with many years of experience in this field. Prosthodontics is a specialized area of dentistry that is focused on restoring a patient's smile.
The different types of prosthetics that he works with can include dentures, dental implants, crowns, veneers and bridges to name a few. His patients are often in need of partial or full mouth restorations. Those that walk into his office, walk out with a brand new look after a few visits.
Many people hate their smile. It is our passion to help all those that come into our office regain their confidence. It is life changing for our patients who hide their teeth, to suddenly have a smile they love.
To check out our services and more about Dr. Roe:
Feel free to visit us at Pro Dental Dallas
If you are ready for a change in your appearance, please contact us today at 972-931-1777. We are looking forward to hearing from you!